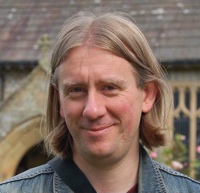 David Chadderton MA is from Manchester. He has a BA (hons) in Theatre Studies from Rose Bruford College in Sidcup and a MA in Scriptwriting from University of Glamorgan in Pontypridd.
David is Head of Education for Mainstream Theatre Arts in Manchester, for which he writes scripts and directs productions for young people to both watch and perform, teaches drama and devises courses. He has written and directed several theatre-in-education plays, which have toured repeatedly to primary and secondary schools throughout Greater Manchester. He also teaches theatre criticism on the distance learning BA course at Rose Bruford College in Sidcup.
David is the editor of the British Theatre Guide, for which he regularly reviews theatre productions throughout the north west of England and writes a weekly news column and occasional features. He is the presenter of The Theatre Show on Canalside Community Radio in Macclesfield, which is also released weekly as a podcast, and he has appeared as a guest on Art Beat on All FM in Levenshulme and recorded pieces on theatre for Tony Barker's show on Vixen 101. He has written for City Life, Curtain Rising Magazine, ScriptWriter Magazine / TwelvePoint and Teaching Drama Magazine, has reviewed for BBC Radio 3's Night Waves and has appeared on the Anna Murby show on BBC Radio Northampton. He is an adjudicator for the 24:7 Theatre Festival for new theatre writing in Manchester and a member of the panel for the Manchester Theatre Awards.
Two editions of his book Practical Drama have been published in 2002 and 2006, and his book Theatre Makers was published in 2008. Both books are published by Studymates Ltd of Abergele.
David runs the NWtheatre web site for information about theatre in the north west of England.
He lives with his partner in Macclesfield, East Cheshire.